Har du hunnit igenom traven med böcker som du sparat till semestern, eller tröttnat på deckarna och vill ha något annat – då har jag en fantastisk bok att rekommendera!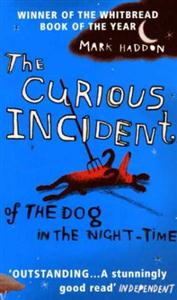 The Curious Incident of the Dog in the Night-Time eller  Den Besynnerliga Händelsen med Hunden om Natten
Författaren heter Mark Haddon
Historien berättas av en 15 årig pojke som lider av Aspergers syndrom. Han hittar grannens hund död på gräsmattan och bestämmer sig för att ta reda på hur det hela har gått till. Detektivarbetet sker i bästa Sherlock Holmes-anda med logiken som ledstjärna.
Det är en så öm och kärleksfull skildring av hur livet kan upplevas när man lider av den här typen av svårigheter att hantera omvärlden, och hur det känns när intrycken blir överväldigande. Läsningen ger också kunskap om hur vi andra kan känna igen och hantera människor vi möter i vardagen med dessa symtom. Som läsare ges vi även lite perspektiv på hur ologiska och besynnerliga beslut vi, som anser oss "normala" fattar i vardagen.
Och kanske låter det konstigt, men den är bitvis fruktansvärt rolig – även om jag känner mig lite skamsen för att en död pudel och en pojke med Aspergers syndrom kan få mig att skratta rakt ut!
Var kan du hitta den här boken?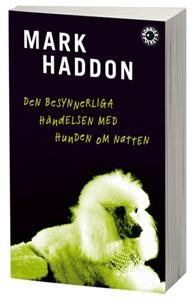 Den finns att beställa både på engelska och svenska på www.adlibris.se och de utlovar att du har den i din brevlåda på 1-2 dagar 🙂  Har du ännu inte upptäckt www.bokbörsen.se så vill jag gärna tipsa om detta fantastiska forum, där både antikvariat och privatpersoner lägger ut sina böcker till försäljning. Just nu så finns många exemplar av den här boken i svensk översättning, och här kan man både göra "klipp" och hitta titlar som inte längre finns i lager. Man kan förstås också ta en tur till biblioteket. Hoppas du blir lika förtjust som jag!
Må så gott!